No wires. No stopping you.
OUR FIRST TRULY WIRELESS IN-EAR HEADPHONES.
Get clear, powerful sound from our first truly wireless in-ear headphones. They're engineered to stay in place, and stay comfortable. We packed them full of technologies so you can push your workout to the next level.

When it came to the tech inside these earbuds, we focused on every little detail—from tuning the circuits for improved sound to tweaking the antenna position for maximum Bluetooth® signal strength. The result? Headphones that play consistently and clearly whether your phone is in your hand, in your pocket, strapped to your arm or sitting on top of the treadmill … and there's never a wire in sight.
Off a single charge, the earbuds play for up to five hours—long enough to power you through almost any workout. And when you're done, place them in their case to recover. It'll keep them protected, and provides two additional full charges (or up to 10 hours of battery life) to keep them ready to go again. Plus, a quick 15-minute charge will give you 45 minutes of battery.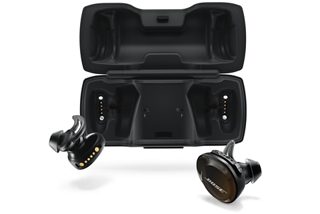 Need a pair of these? Check it out, and grab one today!